Nobody can accuse Sabre Yachts of resting on it's laurels after the stunning success of the Sabre 48 Salon Express of which almost 30 hulls have now been sold (12 have been delivered).
We announced the new Sabre 38 Salon Express plans about 12 months ago and now she has entered production. Over the next three months we will follow hull #1 through every phase of production from fiberglass to sea trials. It's a fascinating process so we hope you will follow along.
Her molds are now prepped and ready for fiberglass part production. In this first image, gel coat has been sprayed into the mold and all fiberglass and coring materials have been loaded "dry" into the mold.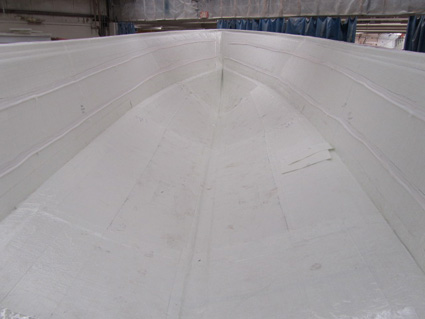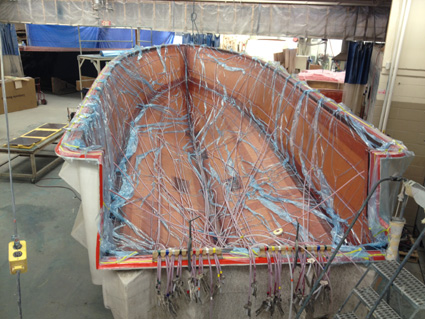 At this point a large "bag" is pulled over the entire part and is sealed along the edges of the mold. Tubes are inserted into the bag that will draw in catalized resin and draw off excess. Although the dry layup took days to accomplish the actual infusion of the part takes just 90 minutes. Resin flows from the keel up to the coamings. Here's what the hull part looks like a few hours later. Note the areas where the SAN Corecell is held back along the keel and in specific places alongside for insertion of through hull fittings.